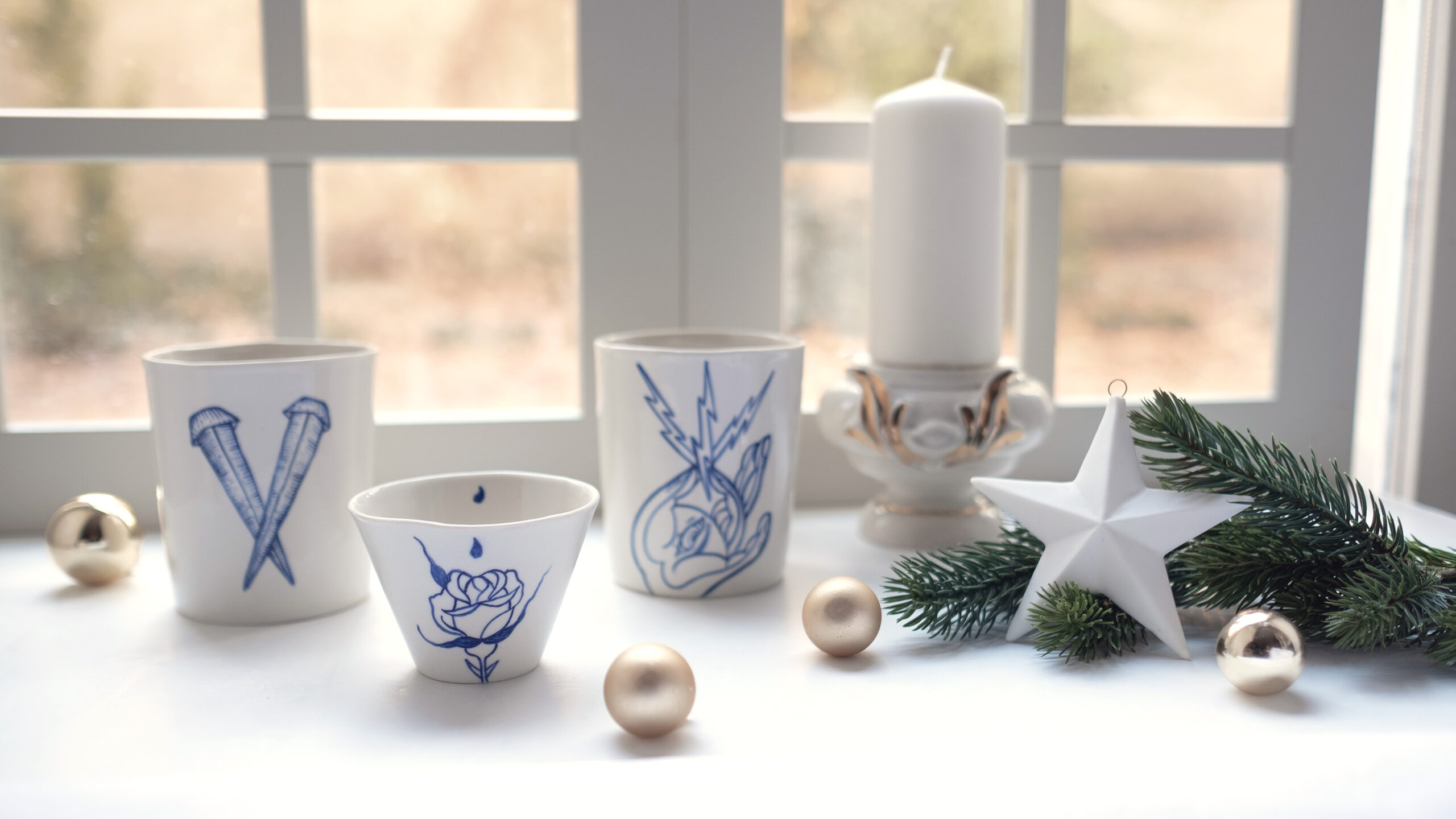 It's Christmas Time!
Enjoy the mood.
We think
and design beautiful pieces
We ship
proudly to your home
Welcome to the world of Antikapratika!
A place where the passion for handmade and craftsmanship is celebrated.
This passion is combined with love for tattooing, which, thanks to our Italian designers and tattoo artists, allows us to create unique pieces, original works of art that tell a story.
Here you can purchase unique handmade products such as: porcelain vases, tableware, home decor and Fine art prints in a limited series.
Antikapratika Collections are
Due to the huge European shipping traffic caused by Black Friday,
we will start despatching your orders from December 1st onwards.
If you have any special requests, please write to us,
and we will try to speed up the process.
Unique Hand_Painted Porcelain
Exquisite Collectable Curiosities
Modern Bone China Tableware
Eclectic & Meaningful decor
Exclusive, Limited Prints
Daniela Homberg
wonderful, individual work! I'll collect them from now on. Fast and safe shipping-thank you!
Lisa Mueller
Fascinating style that brings much more. The porcelain is outstanding and the decorations are well made. Super artesanal products.
Andreas Tork
I ordered 3 cups and they was delivered safe thanks to the great shipping packaging. I love these cups, for breakfast with my family.
Antony
Pia Lang
The porcelain mug is beautiful and it's great to drink from it, the material is so thin and delicate; ingenious. The motif of the moth fits perfectly. I use the porcelain mug every day because it is so nice to drink in it...Many thanks!
Danny
Very nice goods. Super friendly contact. Definitely buy soon 🙂
Giovanna Exter
My congrats gyus, your porcelain are a perfect example of good artesanal products. I'll surely buy something more soon from you. Thanks also to the nice postcard you sent me: an unexpected surprise that I really apprecioated.
Chris Phillipps
Really lovely cup, awesome motives!
Are you looking for a shop where you can discover and purchase our products?

Do you own a shop and would like to become an official retailer of our brand?

Click here
An Italian artist who designs and produces porcelain objects in limited series in her atelier in the heart of Berlin. 
Is an Italian tattoo artist currently collaborating with the Blut & Eisen studio in Berlin. In addition to tattoos, he creates graphics for limited edition prints and clothing. 
Subscribe to our newsletter by completing the form under here to be informed to our news!