A touch of glamour to any interior setting.
Blue Hand_Painted

Porcelain Collection
Under this name, we present a full collection of high value porcelain defined by its production and decoration process. Each single piece is characterized by a distinguish irregular shape due to the handcrafted production process. The high value is achieved thanks to the original underglaze tattoo motif carefully painted by hand by Antikapratika. Few pieces have a touch of pure real gold on the rim, just to add a hint of extra glamour. Exactly like in tattooing, each time we paint a motifs, we give a personal variation which makes every single item an unique single piece. We love to work on custom works, get in touch with us and we can design and produce your special, personal, item. Through this collection, we want to deliver you, quality, style and exclusiveness.
Handpainted + handmade = highest value ever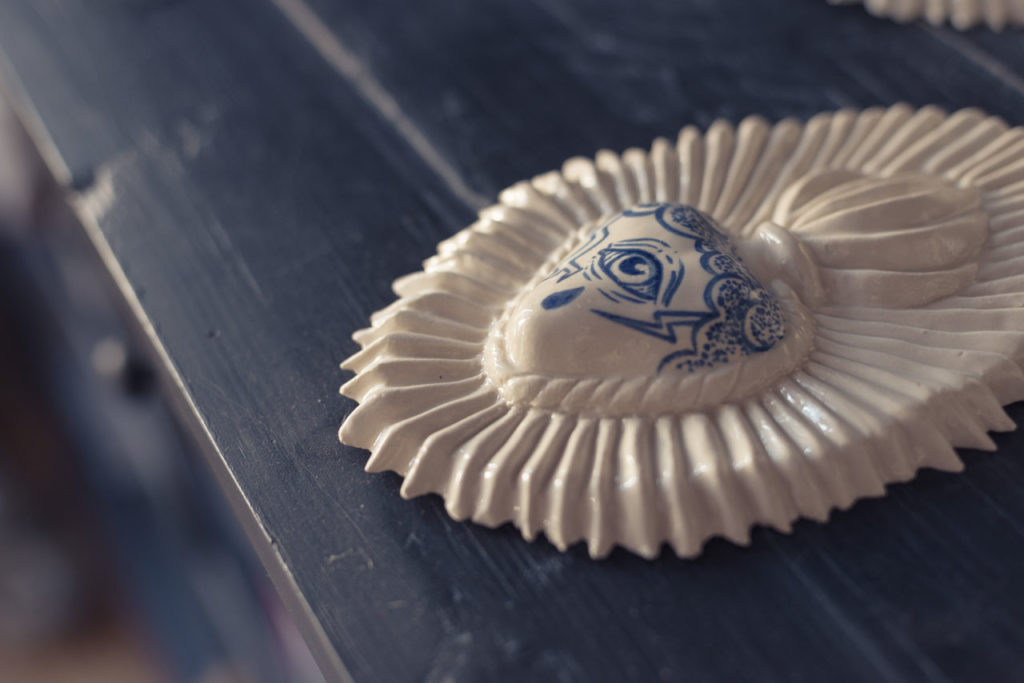 Modern patterns, style, humor and love in one color.
Black Lines

Porcelain Collection
Trough its urban yet exclusive aestetics, the Black Lines is considered our "easy going" collection, for every day, for every table. Every item is made of pure white german Bone china, decorated with a silkscreen black graphic tattoo motifs, applied on 3rd fire at high temperature. A truly handcrafted process, entirely made in Berlin that gives to each piece an individual, irregular, special shape. What comes to your table is a hard, white, translucent tableware with an high resistant underglaze design, signed by Antikapratika.
A distinctive look at any table.
If your house deserves a little hug.
Home Decor

and other products
In addition to the Black line and Blue Hand_Painted collections, we also produce exclusive home accessories, to decor any interior. Home accessories include: Sacred hearts Ex Voto, Nails, Pedestal and Candelabrum. On the site, occasionally, we give space to the sale of special items such as single pieces prototipe. These products are displayed according to the availability of the moment. So if the "temporary" category appears on the product page, take advantage of it.
Style and beauty all over you.